Featured Apprentice Story
IKEA Ltd
As an interior designer co-worker as part of the Retail Team Leader Level 3 Apprenticeship, Charlotte Hare's role is about gathering insights from people's life at home needs and translating this knowledge into locally relevant, functional, aesthetic and commercial home furnishing solutions that exceed customer expectations.

As an apprentice on the Retail Team Leader Level 3 programme, Charlotte's role was also about understanding the wider IKEA and retail industry and how to apply this learning to be high performing in her role whilst opening up new networks and opportunities to collaborate and co-create across the store.

During COVID-19, Charlotte really stepped up and took extra responsibility within her role, creating togetherness within her team, taking responsibility to lead a sustainability focused project, leading by example by being her best self and bringing the best out in others, whilst still being committed to completing her apprenticeship (Retail Team Leader Level 3)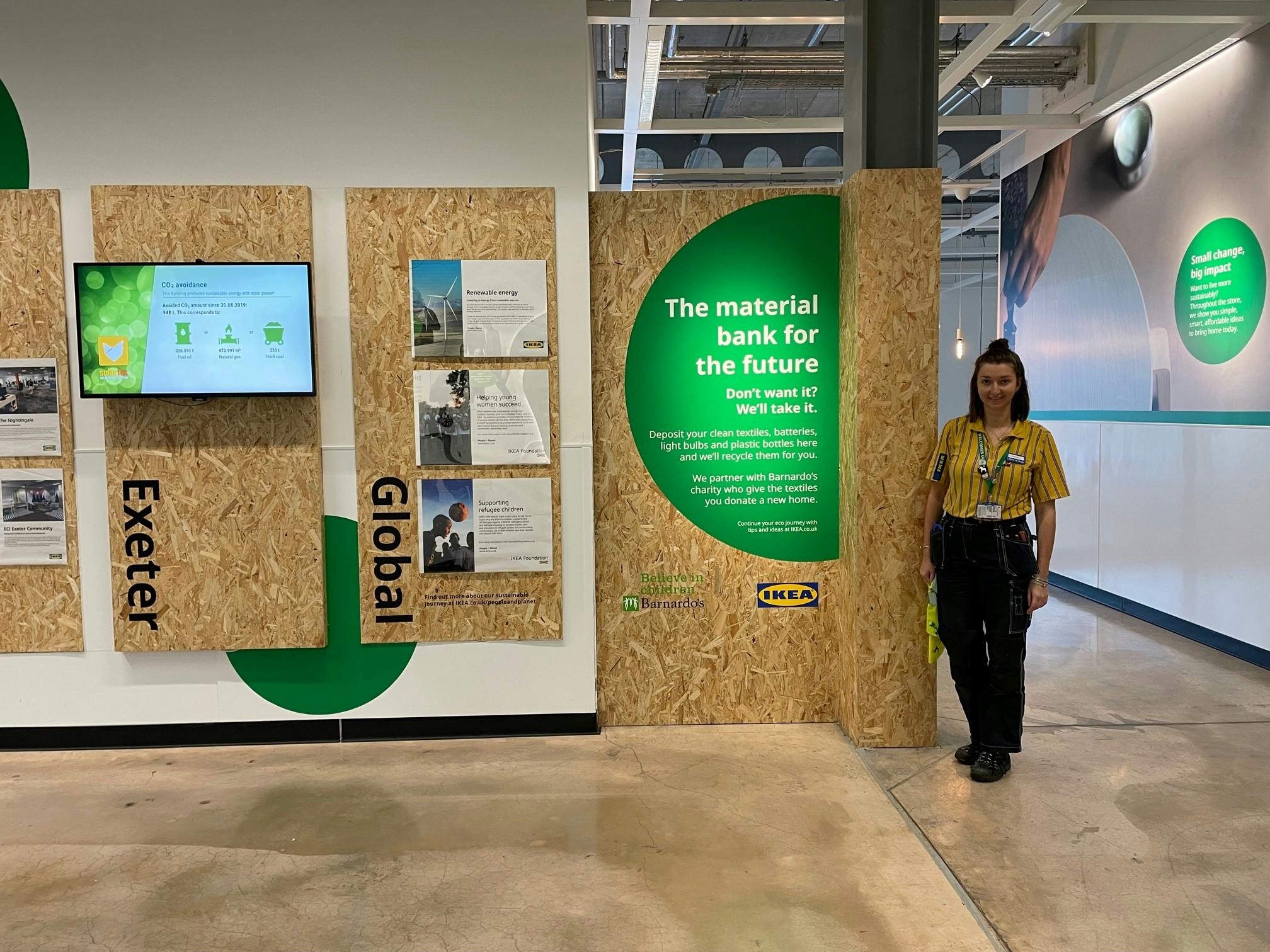 During COVID-19, our IKEA culture and values have been our guiding star. We are a retailer and welcome many visitors through our doors everyday, so when the pandemic began then this had a big impact on all our co-workers and their day to day roles.

For Charlotte, being mid way through her Retail Team leader apprenticeship when the pandemic started, she really stepped up and took extra responsibility within her role, creating togetherness within her team, taking responsibility to lead a sustainability focused project, leading by example by being her best self and bringing the best out in others, whilst still being committed to completing her apprenticeship.

The need to adapt with speed to changing consumer behaviours and expectations when it comes to living more sustainably, has been accelerated not only the pandemic but the climate crisis we are now in. During the first lockdown Charlotte, as an Interior Designer co-worker, took on a project to make use of an unused space within the store to put a spot light on sustainability.

As part of the store's Sustainability plan, Charlotte identified an area of the unit where we could create a space for customers to recycle, learn about IKEAs sustainability strategy and engage in what is going on within the store. Being an apprentice at the time of this project stimulated Charlotte to do a deeper research into how this space could benefit the store and link to different areas such as sales, marketing and stock, whilst also creating a visually inspiring customer interaction area that would also support future business focus areas..

The learnings from her apprenticeship modules meant Charlotte was considering aspects outside of her role, challenging what has been done before and presenting to her apprenticeship learning coach to get feedback from someone outside of IKEA. The entire project was planned through lockdown, with sign offs being carried out virtually via teams, a totally new way working for us all in a store. The project was delivered to the timescale and the brief. During times of change, Charlotte has delivered to a very high level, with the solution implemented being identified as a good example during a country sustainability review.

Charlotte has also displayed a resilience and commitment for her personal development during this period. Due to COVID-19, our learning provider placed their learning coaches on furlough, forcing a break in learning for our apprentices. With her learning disrupted, and having a different coach after the break, Charlotte's motivation and determination has shone through and she achieved outstanding results in her end point assessment with distinctions.

Charlotte has also secured her next position with IKEA Exeter and is now the Interior Design Manager, where she continues to lead, inspire and empower her team of interior designers.