Featured Apprentice Story
Barratt Developments PLC
Nathan Owen Barratt Developments PLC, South West (Divisional office Exeter)
When Boris Johnson announced that we needed to Build Back Britain and that Construction was essential to keeping the economy going during the unprecedented Global Pandemic Barratt Developments PLC took this call to arms and drew up stringent Health & Safety plans to resume building. Nathan was pivital in being part of the team that continued to build top quality homes under unique conditions in a global crisis - Nathan was and still is a huge part of Building Back Britain each and every day.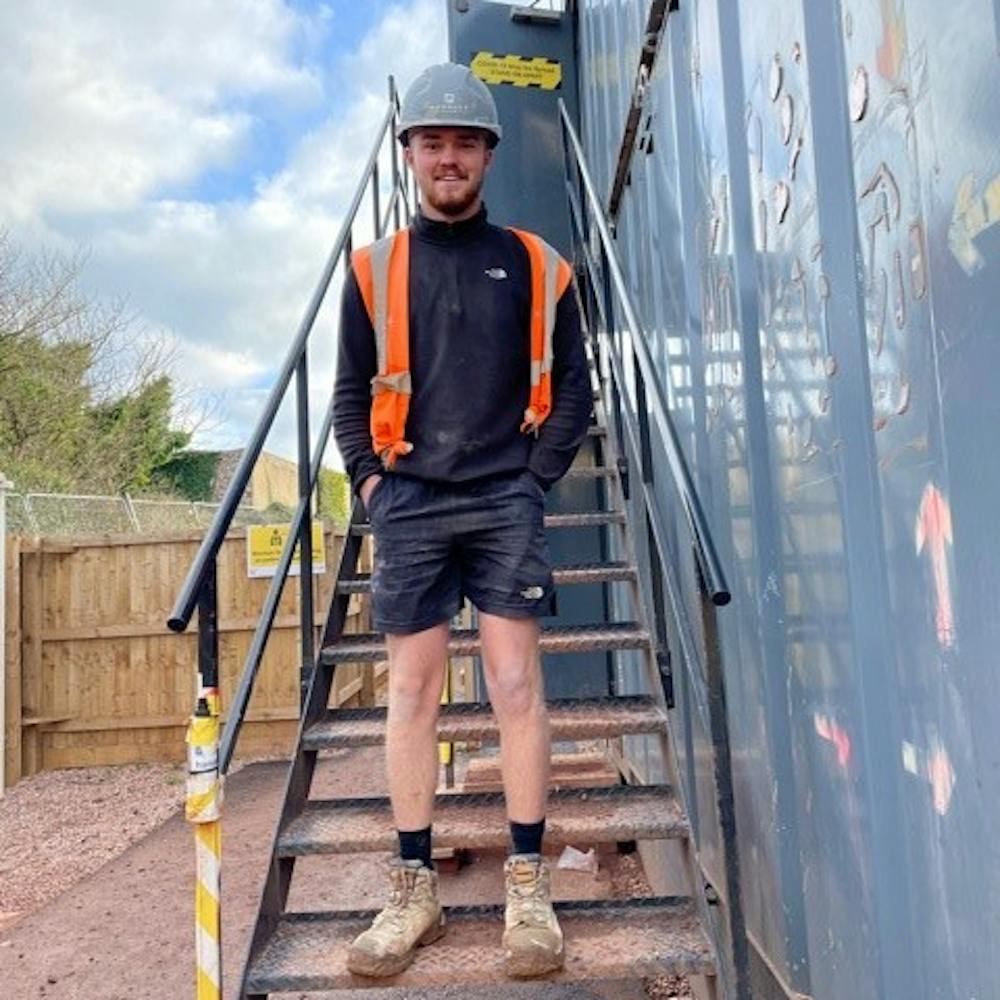 Nathan is an Apprentice Bricklayer. In his day to day life he will be laying bricks and blocks, applying or removing mortar with a trowel, working accurately from detailed plans and specifications, measuring out areas, and repairing or maintaining existing structures amongst other things. This is a pivotal role in the housebuilding industry. He is a competent, reliable and well respected young man who has forged a positive relationship with his peers and the site teams of whom he works with.
It is naturally daunting starting an apprenticeship but even more so starting an apprenticeship in the midst of a global pandemic. It wasn't a usual start for Nathan he met colleagues through virtual platforms and any usual practices for new starters were on halt. On his first day on site, he had to do a lateral flow test, be temperature checked all before entering the site. When he got on site there was minimal people, social distancing and so many measures that were out of the norm that he had to adapt too, all in unfamiliar surroundings. To add to that, he was due to start College at the Barratt Academy in Leicester but due to restrictions he met his tutor and peer group through a virtual means, he then had to embrace online learning of a practical trade - that's no mean feat!

However Nathan just took all of this in his stride. He has embraced every challenge thrown at his with a smile and a no problem attitude. He has adapted to the changes in learning and working with ease making it look easy! When it is raining on site and there is little work for him to do, he will pitch in with the site teams and other trades to assist a true team player. Nathan will also take himself off and practice his trade in a garage on site, learning to perfect his skills and learning more complex designs and laying techniques. This self-learning, wanting to better oneself and commitment isn't something you often see in a young person – Nathan has this by the bucket load!


The personal qualities this young man has are Resilience, determination and hard work as well as the ability to adapt to difficult situations and overcome challenges. Nathan has pushed himself to achieve high standards since he started with us. His workmanship is exemplary, his hand skills are impressive and his excellent attitude to learning has a positive impact on his progress and is inspiring to others. His natural abilities to be helpful to the staff, friendly and be supportive to his peers creates an aura of friendliness around him.


Nathans professional approach to the work he does is fantastic. He is able to link the learning from the workplace and from college (which has been mostly virtual) and use his experiences to further develop his knowledge, skills and understanding. This demonstrates that he is able to work effectively without supervision and takes responsibility for completing his own work on time.
Not only has he made learning a practical trade look easy, he has excelled in his theory work and is ahead of his peers through using his initiative and carrying out his own research, communicating with his college tutor and seeking guidance from his managers and mentors. He has never moaned once, or even tried to use the pandemic as an excuse for anything. His learning journey has been more than unusual and he has still taken it in his stride with outstanding results.