Featured Apprentice Story
Department for Education
George Placidi, Apprentice Project Manager, has just completed the BSc. degree element of his Level 6 apprenticeship in Construction Project Management and is currently working towards the End Point Assessment (EPA) of securing chartered membership of the Royal Institute of Chartered Surveyors (RICS). At the point of the first lockdown in March 2020, George was halfway through a 12-month secondment to a construction company as part of the public-private sector partnership of our Capital Apprenticeship Academy. When construction sites were shut down, partners recalled their apprentices on secondment and George returned early to DfE to work on the Free Schools programme.

George was tasked with opening a brand-new primary school in Harrow, west London for the start of term in September. He successfully overcome a number of challenges presented by the pandemic to get the school open to time and quality, enabling the first year-group cohort (as well as teachers and support staff) to move into and enjoy their new facilities. George achieved this all whilst obliged to move immediately to working from home and learning new skills in remote working and managing blended remote teams, and continuing to achieve in his degree work in those challenging circumstances. George spent Year 4 of his apprenticeship (2020/21) building on his experience with Hujjat Primary to deliver additional new free school projects for September 2021 openings.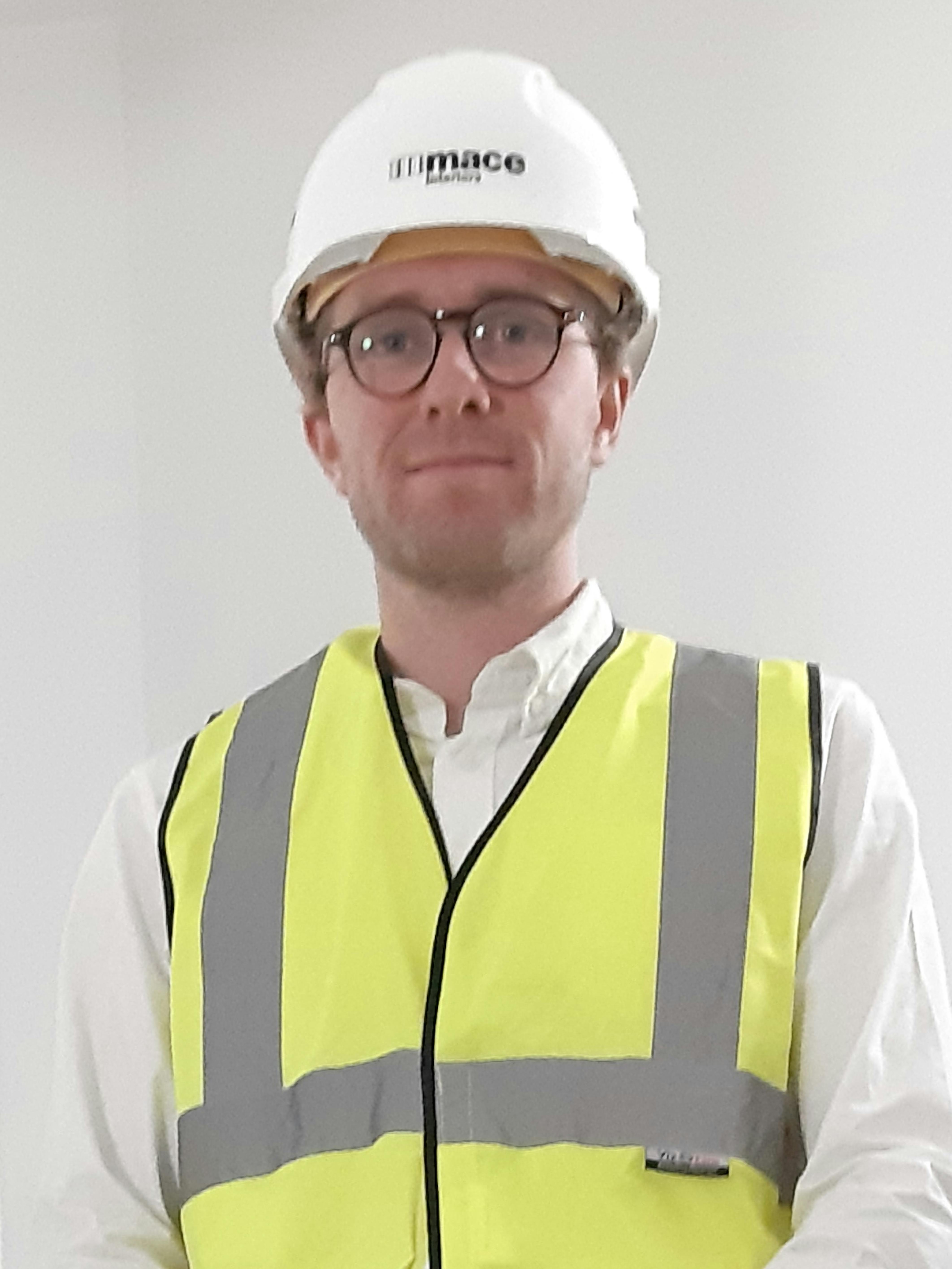 George Placidi joined the Department for Education in September 2017 as one of the first cohort of the Capital Apprenticeship Academy. The CAA is a ground-breaking scheme within the construction industry, where the DfE as a major client has come together with consultant and contractor firms to offer apprentices a unique experience of working for all three partners on 12-month rotations whilst studying for a B.Sc. in Construction Management and, then, working towards professional chartered status on a 4½ -year Level 6 apprenticeship. George spent Year 1 with DfE as his "home" institution, before moving for Year 2 on secondment to AECOM and was almost halfway through his Year 3 placement with Wates Construction in March 2020 when the first COVID-19 lockdown happened.

George therefore returned to DfE 6 months earlier than planned from his secondment when Wates was forced to close its sites and the construction projects on which he was working were mothballed. He was placed in a new team in DfE Capital where there was a vacant post and showed great resilience in handling the disappointment of his secondment ending unexpectedly whilst adapting swiftly to new working practices and processes – all whilst, with offices closed, also facing the challenges of working autonomously and remotely from home. George actively sought additional experience and was tasked with opening a new Muslim primary school by September.
There were several challenges to this project, which had been deferred in previous years owing to a lack of local authority support and also delays in getting into contract construction at the permanent site. Failure to secure temporary accommodation for Hujjat Primary School in order that it could open in September would lead to loss of parental support and potentially closure. At risk were the loss of essential school places for local children, abortive costs in the millions (as the permanent site had been bought by DfE) and failure of meet ministerial direction that all planned schools had to complete to time during the pandemic. From the broader perspective, the swift recommencement of DfE's newbuild and refurbishment projects, as one of the UK's largest construction clients, was essential to recovery in the construction industry – and George's work on Hujjat Primary was part of that picture.

Against this challenging backdrop, George took complete ownership of getting the school open within 4 months. He was required to:

• Assess demand for the school and school places locally
• Explore a range of temporary accommodation options and ensure a suitable outcome for the school in the arranged shared facilities
• Establish a clear project plan, assessing risk and implementing any contingency measures
• Lead a project team including property lawyers and specialist consultants to agree the terms of the lease and implement sharing agreements to an agreed date
• Liaise with local stakeholders (the school, the trust, parents, the local authority providing the temporary accommodation, neighbours and other interested parties, and chair meeting and stakeholder events. Established, negotiated and chaired meetings between the LA and Trust to agree the arrangements for shared use
• Ensure the temporary school could open safely and, before term started, ensure staff received facilities training and COVID measures were put in place; and
• Monitor developments on progressing the permanent building solution, as the temporary accommodation was time-limited.

George successfully overcame all these challenges, along with programme management issues presented by the COVID lockdown, including loss of time and shortages of labour / materials, to get the school open and enable the first year-group cohort (as well as teachers and support staff) to move into and enjoy their new school facilities. George brought enthusiasm and ambition to complete this project to a tight deadline and to the satisfaction of all interested parties in the face of all the challenges of the COVID pandemic. Being tested by this scenario, and rising to the challenge with drive and determination, has jumpstarted George's development at the very start of his career. He has already secured promotion this autumn as a Junior Project Manager following graduation and is making good progress towards completing his apprenticeship EPA and securing chartered status with RICS during 2022