Featured Apprentice Story
Softwerx
Faith is now in 3rd year of her 4-year Digital Marketing Degree Apprentice (BSc Hons) with Anglia Ruskin University. Faith started as a digital marketing assistant and has been promoted to coordinator of Voice at Softwerx within 18 months of her joining. As Coordinator of Voice, she is responsible for the day-to-day management of the Softwerx brand and collateral across social media, website, publications, etc including graphic design, mixed media, publications and video. She also has a special focus on business development in the nonprofit sector and has worked with our Strategic Account Director for Nonprofits.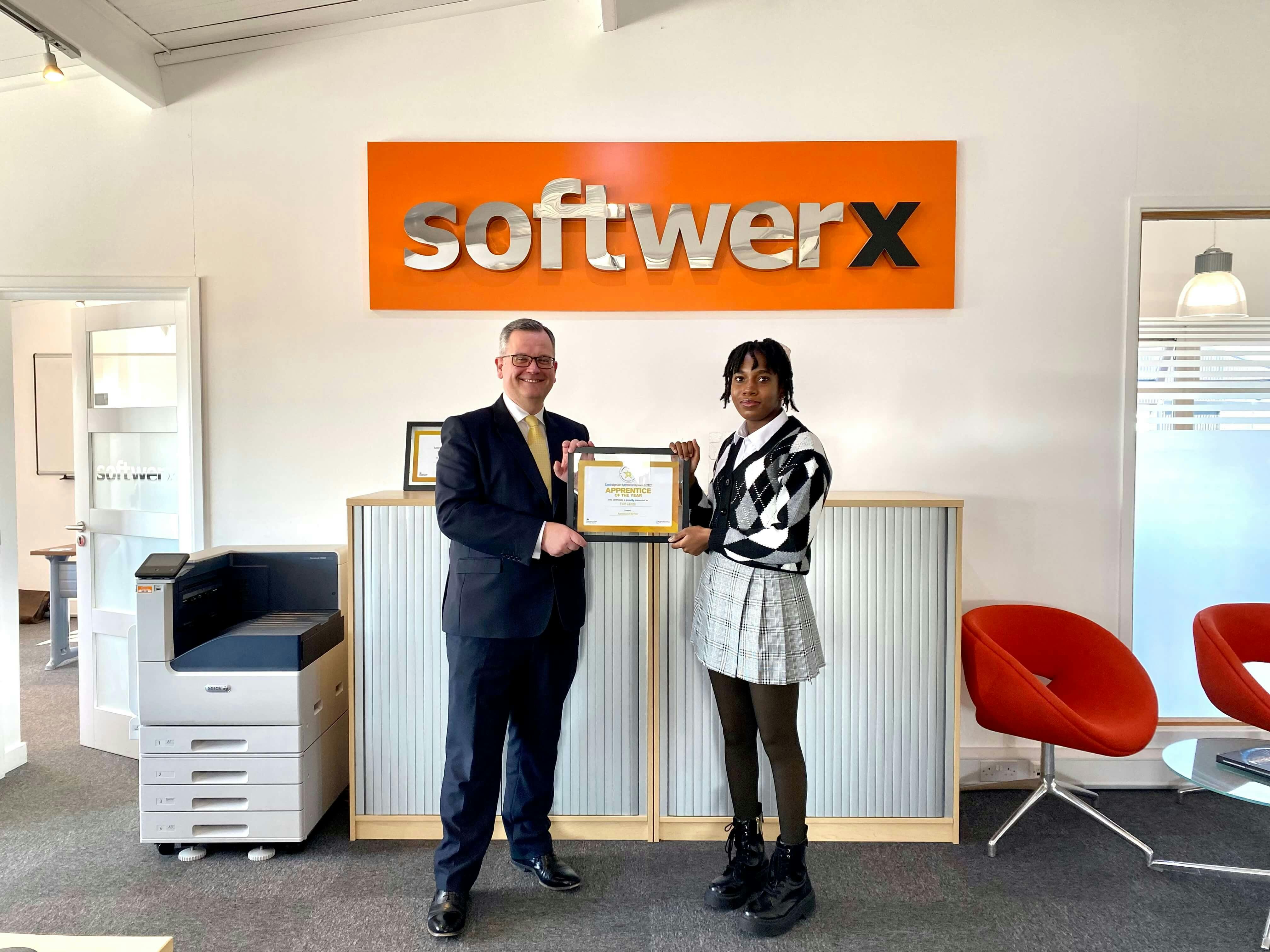 Faith's main areas of activity below into sections:
NONPROFIT ROUNDTABLE
Faith has facilitated an industry leading Microsoft Security Roundtable at Microsoft's HQ in Paddington. The event included an 'immersive experience' – in this case Jeff Wayne's 'War of the Worlds' in London. Faith's role in this was as organiser and facilitator. She helped to curate the invitations, plan the day and facilitated on the day and was there in-person to take part. Here is some feedback on the event: "Hi, The roundtable event was excellent. Very informative and something I would certainly attend again. There was nothing 'not to like'. Regards, Chris Information Technology Manager" -- Here's a link to the programme and some pictures of Faith and the team from the Immersive event: https://drive.google.com/drive/folders/1ZCV3I49A8nimZbQJTZzAYBCEJGH6nDJ4?usp=sharing
MICROSOFT FIRST AWARDS
Faith has also been integral in helping us launch the inaugural Microsoft First awards that we believe will become an industry benchmark in years to come. Here is some feedback from the overall winners that we awarded, Kidney Research, on receiving their prize: "Subject: Re: Microsoft First prize delivery Hi, I was on leave last week and collected the parcel last night. It's fantastic, thank you. We love it. Our CEO reported the win to our trustees yesterday, and I know they will be pleased. So yes, the delivery was received with gratitude and delight. Regards, Chris" Here is a link to the award winner's photo with their trophy that Faith designed and produced: https://drive.google.com/file/d/1QPgdQdF2DsOtKYSwtBj8o54Qa-eXLGwK/view?usp=sharing
VIDEO CASE STUDY
Faith is currently coordinating the production of a video case study about Softwerx as well as our Microsoft Distributors Westcoast Cloud. She is helping with the scripting, production and editing. This will be a professionally shot 'talking head' interview of our Managing Director in our offices. We look forward to sharing this video with the wider world for example, via our YouTube Channel that Faith manages.
NONPROFIT SECTOR WORK
Faith has been working tirelessly in the nonprofit vertical to help generate 16 new nonprofit clients in that area since she joined. This is significantly more than in any other sector that we work in and lots of that new business is down to Faith's initiative, talent and tenacity across events, marketing collateral and outreach. She's helped generate over 270 new business leads by getting them to join our 'security insights for nonprofits' LinkedIn group here: https://www.linkedin.com/showcase/microsoft-security-insights-for-uk-nonprofits/. She's also managing our own dedicated nonprofit-focissed website, 'Softwerx For Good': https://www.softwerxforgood.com/ generating hundreds of visitors a month. For these reasons our work in nonprofits has become the model for our other sectors in marketing to follow. Faith was involved in Softwerx sponsoring the Kidney Research UK's Gala Event in London earlier this year which culminated in her joining the Gala Dinner event as a delegate- you can see a picture from this event here: https://drive.google.com/file/d/16B0Vpv0lbyxRJg23XoERdOpBingVxPeH/view?usp=share_link
PRESENTATION FOR ANGLIA RUSKIN UNIVERSITY AS GUEST SPEAKER
Faith has also stepped out to promote apprenticeships in partnership with the apprenticeship provider Anglia Ruskin University (ARU) at their CAP conference for prospective apprentice employers and the wider network. The coordinator of the event, Alice Bolina, Marketing Specialist, Degrees at Work at ARU, had this to say, "Hi Faith and Phoebe, Thank you for attending and speaking at the CAP conference today. Your time is very much appreciated. I heard you got some great questions, and you delivered your answers and experience with great finesse and professionalism. Many thanks again, Alice." Considering that Faith used to be described as "Quiet as a mouse" according to a colleague, this is a dramatic change!
CAMBRIDGESHIRE APPRENTICE OF THE YEAR AWARD 2022
Faith Akinbo scooped the 'Personal Achievement' Award at the inaugural Cambridgeshire County Apprentice Awards 2022 and also the overall 'Apprentice of the Year' award. This made local papers including this article: https://www.peterboroughmatters.co.uk/news/first-cambridgeshire-apprenticeship-awards-winners-announced-9086046 Related to the winning of the award was an article published by Anglia Ruskin University that was shared on their website as well as local press. The article featured Faith's award in the context of the digital skills crisis and has inspired future apprentices: https://aru.ac.uk/blogs/hiring-a-digital-apprentice Anne Bailey, founder of Cambridge-based apprenticeship advocacy agency Form the Future said this about the award: "It's been so rewarding to work with Softwerx to create new apprenticeship opportunities, and wonderful to see Faith win this award. Form the Future helps young people find their route through education into employment and provides employers with access to their future talent. Results like these show the power of the apprenticeship pathway to create opportunities for young people and plug the gaps that so many businesses are struggling to fill. We're delighted to see Softwerx's apprenticeship programme go from strength to strength, and we look forward to continuing to inspire the next generation of young men and women to pursue careers in tech."
This accolade was not just a recognition of Faith's diligence and skill but also of her phenomenal resilience having moved to Cambridge from Nottingham and started work at Softwerx just before lockdown. Softwerx MD commented, "If you had asked me if I thought Faith would have the staying power to stick it out through lockdown, not knowing her before, I would have said 'I don't think so.'" Faith's increase in confidence- especially since winning the Apprentice of the Year Award for Cambridgeshire Council- has been phenomenal. Faith now is very chirpy and is confident enough to, for example, speak to colleagues in the office and to make suggestions in group meetings as well as to lead meetings which are things she previously would not really have done.
NEWSLETTER AND TECHNICAL WRITING Faith is also adept at writing and communications. After just 18 months, Faith has been promoted to the position of editor of our monthly TechTalk newsletter that has almost 500 subscribers. Her impressive blog writing skills also caught our team by surprise with our Microsoft Services Director saying about a technical blog she drafted, "Wow Faith, you've written it better than I could have." These monthly newsletters are anticipated by subscribers and get great engagement (click and open) rates. Here's an example of the latest newsletter she edited: https://17d43b030af44813b63ff4b83b2e0a52.svc.dynamics.com/t/t/MU4Ru8Ct9fPykrRpUGgw66ykXgLIRoCnft0tInkam7ox/0ECkSETf4lSDdfv4PmTmZJvdnqk2xhLQpeylVFwrtV0x?p0=0ECkSETf4lSDdfv4PmTmZJvdnqk2xhLQpeylVFwrtV0x
MARKETING VIDEOS
Faith helped to produce a series of 5 marketing videos that have been getting great feedback from potential customers according to our Technical Director and we will be making more in future. One example is this epic 7-minute educational video she produces with a professional videographer: https://www.youtube.com/watch?v=kd0MuGEwq48&t=7s
BRANDING AND CONTENT
Faith has been integral to the development of our Softwerx brand image and has developed a set of brand guidelines that are very professional covering technical topics like writing guidelines, logo usage and brand values/brand strategy. These have been a game changer for us in marketing. Having previously outsourced our marketing function, we struggled without our own 'rules' to play by and Faith's hard work to hammer out our guidelines has been a game-changer not just for marketing, but to standardise our branding across the organisation. As part of her role growth as coordinator/manager, Faith also liaises with our proof reader, printer and copy writer independently.
REPORTS & SOFTWERX MERCHANDISE
The production of the report for nonprofits has been a highlight that's helped our company stand out from the other 30 000 Microsoft partners in the UK. Faith designed, edited and researched the report and is credited in the 'About' section as the author. You can find the report here: https://drive.google.com/file/d/1NKxDTl8oefHfH9iVr-oMNqBfeXyparjW/view?usp=sharing The recent report for charities was called 'superb' by a Microsoft manager who goes on to say, "This report sets the standard for other Microsoft Partners to follow. We are showing it to others to show them what's possible." Another senior Microsoft Executive said, "I've shared it with our senior management at Microsoft Tech For Social Impact and they are very impressed." Further positive feedback is for the report for Professional Services that Faith put together as well as the Softwerx merchandise that Faith helped design and produce. Sharing these with customers have helped turned Altum Group from customers into 'fans' where they say in an email: "Thanks very much for the reports, I have some copies strategically dotted around the office on senior desks! Thanks also for the top and mugs – very kind indeed. Already put to good use by some of our best people… Regards Peter. Chief Information Security Officer, Altum Group"
MENTORING OTHERS
Faith is helping another first year Softwerx degree apprentice called Paul learn design skills from scratch that she has mastered since she joined Softwerx. These skills she is sharing include using the industry standard Adobe Design suite, especially Adobe InDesign and Adobe Illustrator as well as Microsoft PowerPoint. Paul is now a part of the design team thanks to Faith's efforts in training Paul and this has dramatically increased our capacity. Faith is also mentoring another 1st year degree apprentice at Softwerx named Grace with her study skills, essay writing, etc.
SUMMARY
In summary, I've never met someone who has as much potential as Faith. She's crushing it as an apprentice and takes our work to another level. In my humble opinion, she is the next Vasu Jakkal, who is the CVP of Security, Identity and Compliance at Microsoft globally- see https://www.linkedin.com/in/vasu-jakkal/. I've never met someone with as excellent a work ethic or ability to follow through, or with a combination of such leadership potential, creativity, resilience and determination, but it's hard to express these qualities in a short application form unless you have met and worked with her. I consider it a privilege to work with her and am excited to see her career unfold as she gains more confidence and as success breeds more success. I know recognition of her work via this 'Apprentices In Action' award on a national stage would mean the world to her in terms of further confidence boost and encouragement. I borrow from the Anglia Ruskin article aboiut the digital skills gap I referenced earlier when I conclude by what I would say to any aspiring apprentices, "Let Faith be your guide".