Featured Apprentice Story
Voluntary Action Swindon
Rachel Hobbs Business Admin Level 3 Apprenticeship joined Voluntary Action Swindon in January 2021 during COVID-19. She was interviewed on-line and successful secured the role. Rachel started her role remotely, although I was able to induct her face to face in a safe way. Full details are below.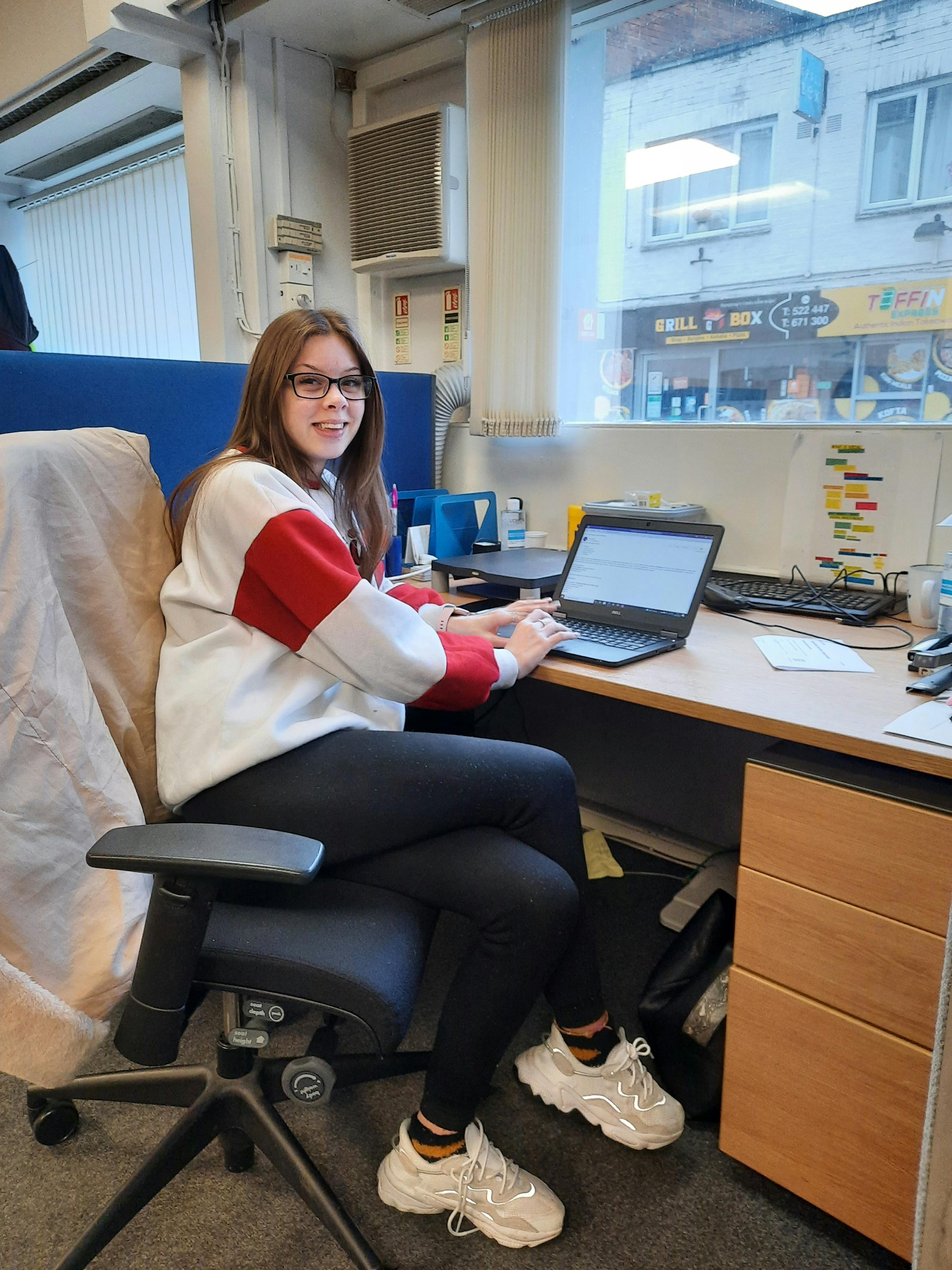 Rachel joined Voluntary Action Swindon (VAS) in January 2021 after a successful interview process. This was carried out on-line due to lockdown, which must have been a challenge for a first work role.

Voluntary Action Swindon are the Council for the Voluntary Sector in Swindon and provide support to community and voluntary organisations. We offer many services including funding and governance advice, training as well as being the landlord of Sanford House and John Street, which houses 14 more charities.
We were pleasantly surprised at the standard of applicants this role attracted and could have offered the role to 5 of the young people who applied. Rachel stood out as the most socially aware of the applicants and was offered the role. The learning provider identified was Swindon New College, and we were able to access Swindon Borough Council's apprenticeship levy to cover the cost of the training. Rachel has also been a committed student,

"Rachel has been an incredible learner throughout her time on the apprenticeship, she has demonstrated a real thirst to learn and to take this back to apply to her business. Within the classroom sessions, Rachel has been an exceptional apprentice, who has been able to grow in confidence which has allowed her to talk to and lead her peers and to be able to gain the respect of others. Rachel has produced an outstanding quality of work throughout and is using her apprenticeship to grow into a more senior role within her business to further their influence within the local community. Rachel has supported many local community groups to further their reach", Charlie Knee, Assessor and IQA, New College Swindon.

Rachel soon became a valued member of the team. Following induction during which she spent time with each member of the VAS team getting to know our individual roles and being introduced to the various charitable organisations within Sanford House she was able to support us carry out various tasks. Rachel has an enthusiasm to learn and take responsibility in areas of work, then takes responsibility to get the job done. She is good at knowing her limitations and asking for help or clarification when needed. She seamlessly fitted into our team at VAS and we have all appreciated her experience and input.

She was quickly able to jump onto social media and promote the services of Voluntary Action. She is proving to be a marketing whizz and has produced short marketing videos, posters – including one to promote a new Shopmobility service in Swindon, updates and adds to the VAS website, with minimum input from team members. She has designed various Survey Monkey surveys, including finding out information to produce a report on how COVID-19 and lockdown affected the voluntary and charity sector. She is pro-active, but also knows when to ask for help.

In April, just 4 months after joining Voluntary Action, Rachel applied to be part of the Young Apprenticeship Ambassador Network (YAAN) for the South West. Voluntary Action Swindon are part of the South West Apprenticeship Ambassador Network (SWAAN) promoting apprenticeships across the South West. As a member of YAAN Rachel will go out to local schools and promote apprenticeships in the community and voluntary sector in Swindon. Due to lockdown this has not been possible, although she has been part of an on-line session. On 8th October Rachel and I attended the SWAAN Annual Conference, and VAS were awarded a certificate for dedication to the SWAAN. We could not have achieved this without Rachel's input and enthusiasm to promote apprenticeships.

Voluntary Action are pro-actively promoting apprenticeships to the voluntary and community sector and Rachel is an integral part of this, including offering her opinions at the Swindon Apprenticeship Network.

She has helped us prepare for various events including the launch of a new Trustee Network - she even presented at the second meeting to promote our training programme. Rachel was also part of the team that organised and delivered Swindon VX, our first online expo for the voluntary sector in Swindon. As well as managing the database of attendees, Rachel took the lead in marketing, producing a series of short videos and social media posts. She also set up and managed a new online directory where attendee details and video recordings of their sessions have been made available.

For someone that has only been in work for 10 months and who had to start at home during a pandemic, this was an amazing progression! Rachel has recently supported preparation of the VAS Annual Report for the AGM, chasing team members for their input and making sure everything was ready for the AGM presentation.

Rachel helped VAS identify a new CRM database by carrying out research on various options and producing a report of recommendations. Rachel and is currently working on the roll out of training and support to the rest of the team. She has been trained on issuing and checking DBS applications for organisations in Swindon, which is a part of the service that Voluntary Action provides.

We are so impressed with Rachel's progress in her first paid office role, that we have offered Rachel a permanent job at the end of her apprenticeship.