Featured Apprentice Story
Premier Foods
As a materials technologist, Jemma works within a Food Manufacturing Technical team, managing raw materials (ingredients) and packaging for Mr Kipling cakes. She works with suppliers and operations teams to ensure any issues are swiftly dealt with, and are prevented from re-occurring.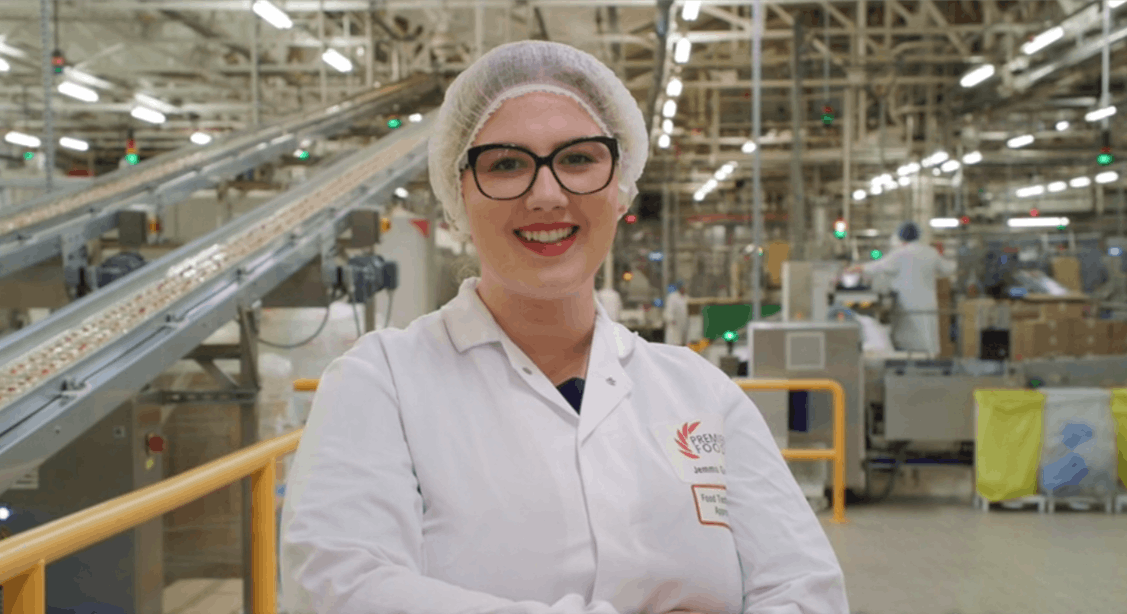 We are proud to support Jemma's application.  As a food manufacturing business, we have a robust apprenticeship programme with a massive emphasis on STEM job roles.  We recognise the importance of feeding our talent pipeline for the business and the industry as a whole in these skill areas where supply might be limited.   Our Enriching Life through Food Plan illustrates our strategic plans around our products and people together with a clear sustainability agenda.  These STEM apprenticeships provide an excellent platform to drive our sustainability targets making a real difference to the development of our products and production processes.
Jemma is currently studying her Level 6 Food Industry Technical Professional degree apprenticeship at Harper Adams University when on completion she will achieve a BSc (Honours) in Food Science and Technology as well as her apprenticeship standard.  Her role includes ensuring the safety and quality of food products, including improving existing products and launching new products, working with our operational teams to develop food practices and procedures and developing good relationships with internal and external customers.  Jemma's increased knowledge has been applied practically in the workplace achieving projects such as improving and managing the sites Food Safety Culture Agenda and aiding the launch of many new products at site. Jemma currently has a full-time role as a Materials Technologist, liaising with suppliers and operations teams to manage packaging and raw materials from intake to finished product.
She also manages the acceptance of specifications from a site level technical perspective, and trouble shoots and complete root cause analysis for site level material issues, working alongside suppliers to reduce these issues from re-occurring. She has also completed high level technical qualifications such as HACCP Level 4 and FSSC ISO 22000 Lead Auditor with Campden BRI. She is a real asset to the team providing a different perspective to solving problems and enthusiasm to succeed. Her on-the-job experiences provide an excellent foundation for the next step in her career in Food Science and Technology within one of our Technical Teams across the Group.
Jemma has been a great supporter of our I&D initiatives in particular speaking out for those who are new to roles and just starting in their careers. Jemma is also a proactive Tasty Ambassador always eager to promote the benefits of the academic and vocational elements of apprenticeships, earning whilst learning and raising awareness of the programmes in schools, colleges and via the Institute of Grocery Distribution virtual school workshops. She has recently presented her apprenticeship journey to Rt. Hon. Mark Spencer, and the DEFRA team, who were extremely impressed with her, stating that she is 'a testament to the business' in a letter to the Operations Director at Premier Foods. From this, she has been requested to put forward a case study for the governments Department for Business' (BEIS) upcoming Manufacturing Investment Prospectus.