Featured Apprentice Story
Housing Plus Group
Liam Davies, a Trainee Electrician L2 , was furloughed during the first lockdown. Liam demonstrated a fantastic sense of teamwork and commitment to customer safety when he returned to work as one of the electrical apprentices mobilised to engage in a major project to register fire doors on Fire Tag.

Liam was trained to use the new app, as well as this, Liam and his fellow apprentices registered 8000 fire doors in high risk properties within weeks. That data enabled work programmes to be created, improving the safety of these buildings.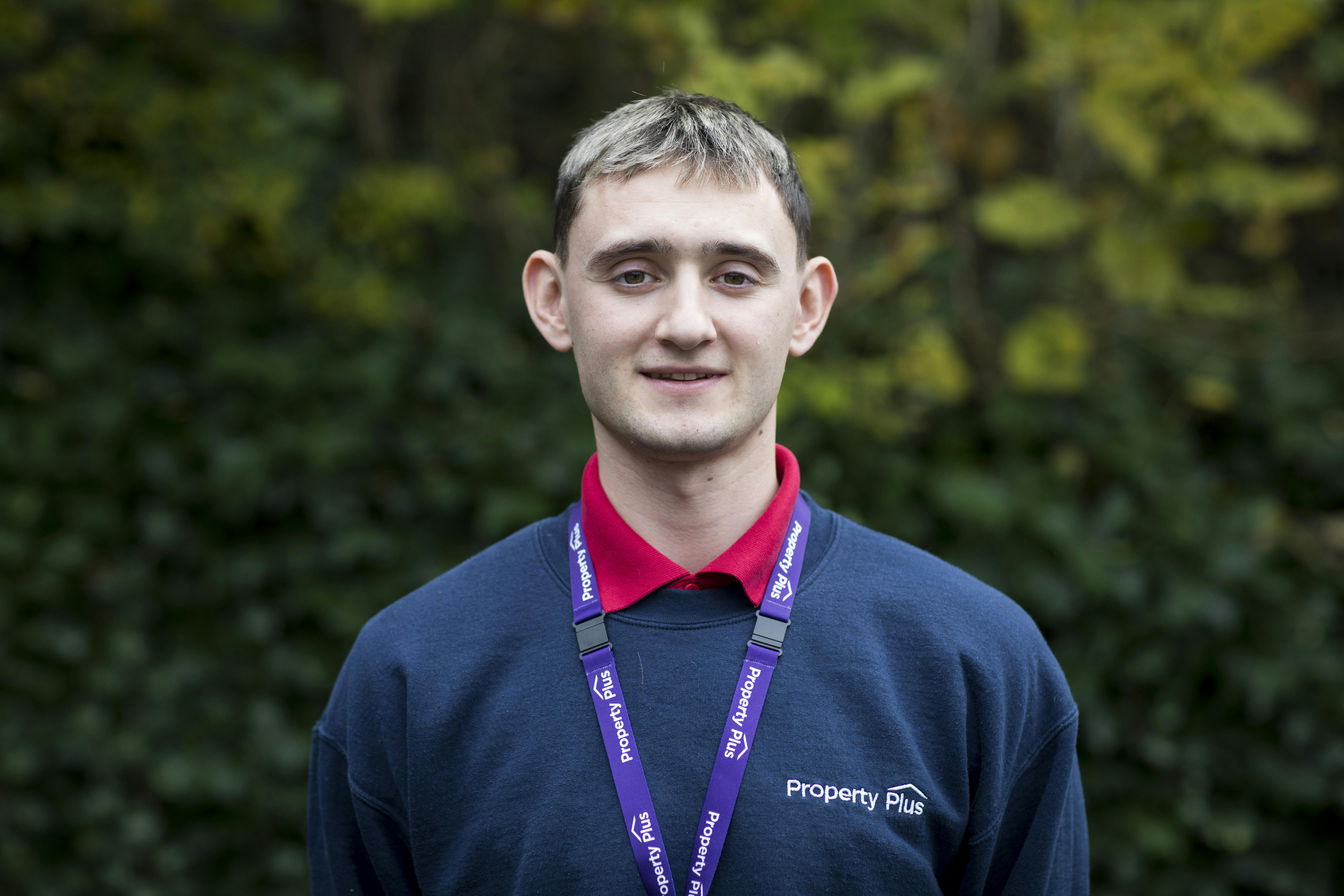 Liam Davies works for Property Plus, which provides maintenance and improvement for 18,000 homes managed by not-for-profit landlord, Homes Plus. Property Plus is a member of Housing Plus Group, a leading provider of affordable homes and care services in Staffordshire and Shropshire.

Liam left school at 16 and combined a full-time college course with part-time jobs in a supermarket and sandwich shop. He describes himself as "buzzing" when he was offered an electrical apprenticeship with Property Plus: "I was ecstatic. I didn't want a future in dead-end jobs, this was a chance to work for a big company, to earn while I learned and with the chance to prove myself," he remembers.

That sense of exciting opportunity was underlined on Liam's first day at work, when he was welcomed by the then CEO of the Group, herself a former apprentice. Liam very successfully progressed on his apprenticeship, combining practical learning in the College workshops with on-the-job training. "An apprenticeship is completely different to anything else I'd experienced. I think you grow up quickly. Some of my friends were still in school and college, while I was in the workplace, alongside people aged 18-65. I learned to communicate with colleagues and customers and to treat everyone with respect. I had responsibilities; a lot was expected of me," he says.

"With an apprenticeship, you're learning all the time, not just in the classroom. I gained the technical skills in college but learned how to apply them in a domestic setting, alongside some incredibly experienced electricians. They have been really great teachers and feel like my second family." Describing himself as an active learner, Liam thrived on an apprenticeship, with the emphasis on practical skills. He was looking forward to taking the next step in his career when he was placed on furlough, which he responded to with resilience and maturity: "I wasn't worried about my job. I had confidence that I was part of a big Group, which had invested so much in me."

He returned to work in the summer, but while non-essential work in customers' homes was still paused, Liam joined the electrical apprentices in a mammoth challenge to register fire doors on Fire Tag, a compliance management system supporting fire safety by assigning a unique ID to each door.

Liam and his fellow apprentices registered 8000 fire doors in high risk properties. Their work will play a very significant part in further improving fire safety in these buildings in the future, helping the Group to apply best practice processes for fire door inspections, installations and repairs. The work that Liam did during the pandemic supports a central objective for the Group to comply with increasing regulatory reform in the housing sector following the Grenfell Tower tragedy. Fundamentally, their project will help to keep people and families safe in their homes.

From a career perspective, the fire door challenge also provided Liam with an insight into other areas of work and a wider understanding of how his individual role contributes to the Group's mission to make a positive difference to homes, lives and communities. Liam has now successfully completed his apprenticeship and become a trainee electrician, with a learning and development plan including City & Guilds 2391 Inspection and Testing: "At the end of the day, I want to do a good job and be the best version of myself. I'm proud that I can say am 'apprentice trained'. That's a real accolade in my trade. In the future, if the opportunity arises, I'd be happy to go into a supervisory or planning role. To do that well, though, I need more experience and I am in the right place to get that."